Process Control Instrumentation Technolongy 2011.April
페이지 정보
작성자
최고관리자
댓글
0건
조회
2,064회
작성일

20-01-22 17:57
본문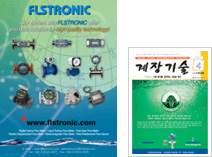 Process Control Instrumentation Technolongy 2011.April
A Quartery MAGAZINE for Korean Products 2011.Vol.38

A magazine Advertisement

FLSTRONIC put ads in one of largest instrument magazine which is Process Control Instrumentation Technology on 4th 2011. Our various meters such as turbine meters, positive displacement flow meters, electromagnetic flow meters, controller and flow sensors were introduced for Korean and International potential customers.

KOREAEXPORT whichais A Quarterly Magazine for Korean Products issued 2011.Vol.38 (May.11th to 14nd). FLSTRONIC introduced new product line for international trade.